Opportunity Now is proud to announce nearly $27M in grants have been awarded to 46 total Phase 1 grantees across our Scale, Seed, and Planning grant tracks.
Our Phase 1 grantees demonstrated the intentional creation and/or extension of partnerships between education & training and business partners to offer groundbreaking and impactful solutions for Coloradans to develop the skills and experience to secure high-wage jobs.
Governor Polis officially announced Phase 1 grant recipients at a press release on Thursday, June 22nd at Tepeyac Community Health Center, a nonprofit community health center in Denver and a grantee.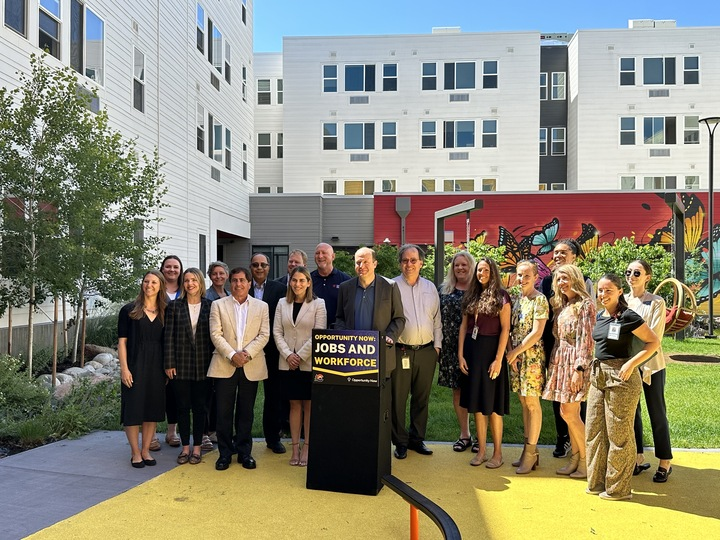 Across the state, employers are looking to hire the top talent that Colorado is known for. The Opportunity Now Colorado grant recipients will help Coloradans develop the skills and experience our growing industry partners need and unlock access to good paying jobs.

Governor Jared Polis
You can read the full press release here.
Summary of Grantees
| | | |
| --- | --- | --- |
| Grant Type | Number | Total Award by Category |
| Planning | 32 | $1,557,000 |
| Seed | 9 | $10,740,000 |
| Scale | 5 | $14,670,000 |
| TOTAL | 46 | $26,970,000 |
Based upon the legislative framework and the work of the recommendations of the Steering Committee, the Opportunity Now team was able to make awards that met the early goals of funding a cohort accross grant tracks that considered industries, program readiness, and the intentionally consideration of geographic distribution of programs to ensure the collective pool of Phase 1 grantees serve all regions of Colorado. A significant number of funded projects are serving rural regions with distribution throughout the state. The Seed and Planning tracks were the most regionally diversified and will ensure the appropriate financial stimulus needed for emerging programs in regions across the state to advance into further grant opportunities l in the coming year.
Among the pool of grant recipients:
98% of grantees serve at least the priority industries of Educational Services, Health Care and Social Assistance, and Infrastructure, with 48% of grantees addressing K-12 education and 39% of grantees addressing early childhood education.
100% of OEDIT regions will be served by funded programs, with a significant amount of funded projects serving rural and rural resort regions with distribution throughout the state
Learn more about our Phase 1 grant recipients and their projects here.
Our Review Process
Opportunity Now Phase 1 applications opened on December 1, 2022 – with an LOI for all grant tracks. Selected applicants were invited to complete the RFA beginning in February, 2023. For additional detail on the LOI and RFA selection process see the Opportunity Now FAQs section.
Through this period, our Grant Administration team received 425 unique Letters of Intent and 293 unique submissions for the Request for Application.
As required by HB22-1350, a Selection Committee was formed to make recommendations on grant awards. That committee included representation from the business leaders, community representatives, the Steering Committee, and OEDIT staff. The Selection Committee built their recommendations from several rounds of evaluation and engagement around a balance of factors including program readiness and geographic distribution of programs.
Phase 2 Coming Soon!
Our second phase of funding will commence late Summer 2023, and will include a larger anticipated total grant amount across the three tracks of funding. Awarding more funding in the second phase was intentional design, allowing for organizations to plan, form partnerships, and/or develop stronger proposals.
Applicants who didn't receive grant funding in Phase 1 will be supported in resubmitting applications for Phase 2. Opportunity Now will host events to recap strengths of Phase 1 Grant Recipients in an effort to strengthen the pool of applicants for Phase 2. All Phase 1 applicants will be invited to attend these events, and recordings will be posted on the website. Join our mailing list for more information and updates.